Women fall for him. Men want to be him. Here's 10 reasons that we all love Lord Flashheart from Blackadder!
Lord Flashheart
Rik Mayall appeared as four characters in the Blackadder saga.
Once as Mad Gerald in series 1, once as Lord Flashheart in series 2, once as Squadron Commander the Lord Flashheart in series 4 and once as Robin Hood in the Back and Forth special.
It's the two appearances as Lord Flashheart that we most remember him for though.
Introduced as "The best sword, the best shot, the best sailor and the best kisser in the Kingdom" in Blackadder Bells,  he became a firm fan favourite.
10 Reasons to love Lord Flashheart
1. He makes a grand entrance. Flash has a trademark entrance which normally involves bursting violently through doors, ceilings or walls!
2. He's got a great catchphrase. Woof! Every hero needs a good catchphrase, and it doesn't get better than this!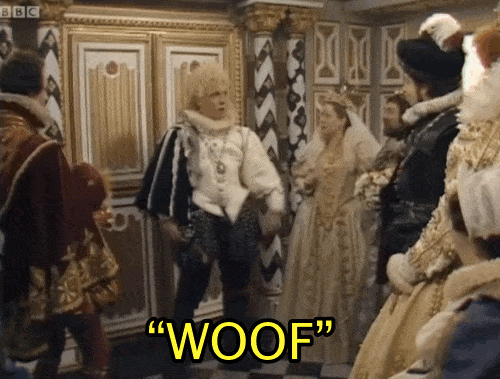 3. Lord Flashheart knows how to flirt. He doesn't seem to mind bridesmaids with beards either come to think of it!
4. He knows how to laugh – especially at his own jokes. Laugh and the world laughs with you!
5. Lord Flashheart is direct and to the point. There's no point in wasting valuable time on training when you can get into action straight away!
6. He always has an answer for everything. Most of the answers seem to be lewd, crude, and of a boastful nature!
7. The answer might not always be a verbal one! If he ever gets stuck for a witty response, a violent reaction is always to hand.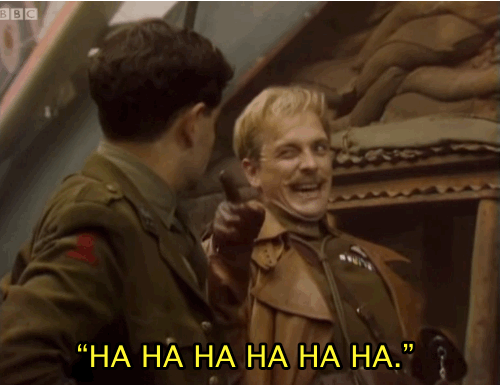 8. He's a strong believer in women's rights (well, kind of). We'll just leave that one there.
9. He believes in rescuing his brother fliers. Flashheart can also show a softer, sensitive side. Almost.
10. He knows how to make a grand exit! Git!
More Flashheart
Want to check out some more scenes featuring Lord Flashheart?
You can find out all about Blackadder and the 20 minuters here.
If you are interested in the full scripts from any of the episodes, you can find them by using the menu.