Queenie, played by Miranda Richardson, was an amazing character who often stole the show throughout series 2 of Blackadder. It's not surprising then that some of the best Blackadder quotes can be attributed to her!  Here are some of our favourite Queenie quotes.
 Queenie Quotes from Blackadder
Queenie was a main character in the second Blackadder series.
Brilliantly played by Miranda Richardson, she exuded a child-like exterior, whilst have the personality of a manic psychopath at times!
The interplay between her and Edmund Blackadder (Rowan Atkinson) was one of the main reasons that series 2 is still considered one of the best.
Here are some of the best Queenie quotes:
Where's my Pressie?
Queen: No, I am completely bored with explorers! And if you haven't brought me any presents, I'm going to have you executed!
From: Blackadder ii Potato
First I'm going to have a little drinky
After all, she may have had the body of a weak and feeble woman, but she had the heart and stomach of a concrete elephant!
First I'm going to have a little drinky, and then I'm going to execute the whole bally lot of you. (Blackadder Beer)
Queen Elizabeth Blackadder Chains
Lord Edmund Blackadder finds himself captured, leaving Percy to spend more time at the Royal Court.
It's up to you: either you can shut up, or you can have your head cut off.
This one is from Blackadder Chains. What's Percy's answer?
And another scene from Chains…
Queenie writes back, saying that she has spent the ransom cash.
A comment that might have gone unnoticed in Beer
It all started last night at about two o'clock.  I was tucked
into bed having this absolutely scrummy dream about ponies when I was wakened by a terrific banging from Lord Melchett.
And another from Beer
Queen: Oh, Edmund… I do love it when you get cross. Sometimes I think about having you executed just to see the expression on your face.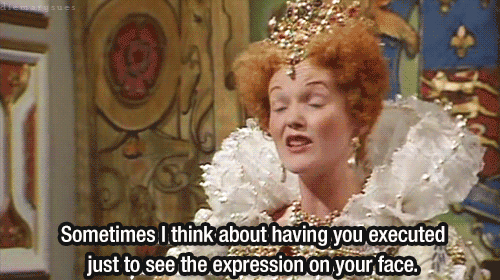 And some more…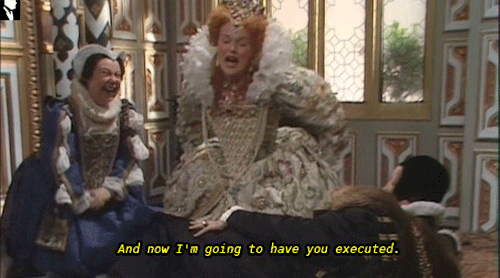 And finally, Queenie's love poetry…
For more Queenie quotes and Blackadder quotes here at www.blackadderquotes.com,  bookmark us and return!
You can also like our Facebook page – Blackadder Quotes On Facebook, where we post two or three Blackadder quotes a day!
Buy the entire second series of Blackadder from Amazon today! – Blackadder 2 – The Entire Second Series [1986] [DVD]
Love Queenie? Check out some of these great Blackadder and Game of Thrones mashups for more!
And:
Which one of these quotes was your favourite? Leave a comment below!